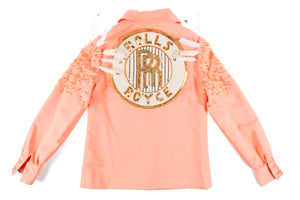 **SOLD OUT**
TO ORDER A STYLE SIMILAR,
INCLUDE STYLE #232 IN FORM,
OR EMAIL: INFO@INFATUECLOTIHNG.COM
Size: Medium (Chest: 18", Sleeve: 23.5", Length: 25.5")

One of a Kind

Hand-made Coral Polyester Zip-Up Jacket

100% Sequin Rolls Royce Embellishment

Safety-Pin Studded Arms

Gold Leaf Feathers
Design Inspiration: 
Conceptually, cars are functional. In reality, they indicate social status to an exhaustive extent. This Rolls Royce jacket exudes all the opulence of the vehicle long considered the height of luxury. The vivid coral-orange looks practically edible, glamorized by crisp accents; white feathers dipped in gold, of-the-moment glimmering safety pins, and a sequenced Rolls Royce emblem combine for this distinctly editorial look.